A famous mixing console with a big-name rock-and-roll history
Originally located at Wally Heider's Studio C, 245 Hyde St., San Francisco
Wally Heider started life in Oregon in 1922 and went on to college to become a lawyer. Finding law was not giving him the satisfaction he was looking for.  It wasn't long before Wally decided to follow his dream — working in music. Aching for a job in Hollywood and to be with his mentor, Bill Putnam (commonly known as the father of modern recording), of United Western Studios in Hollywood (a varied, talented musician), Heider began his music vocation. He went on to open his first recording studio in 1969 in San Francisco at 245 Hyde Street. He quickly built up a reputation as an in-demand recording engineer in his own right, producing high-quality work.
The UA610 Console at Audio Garden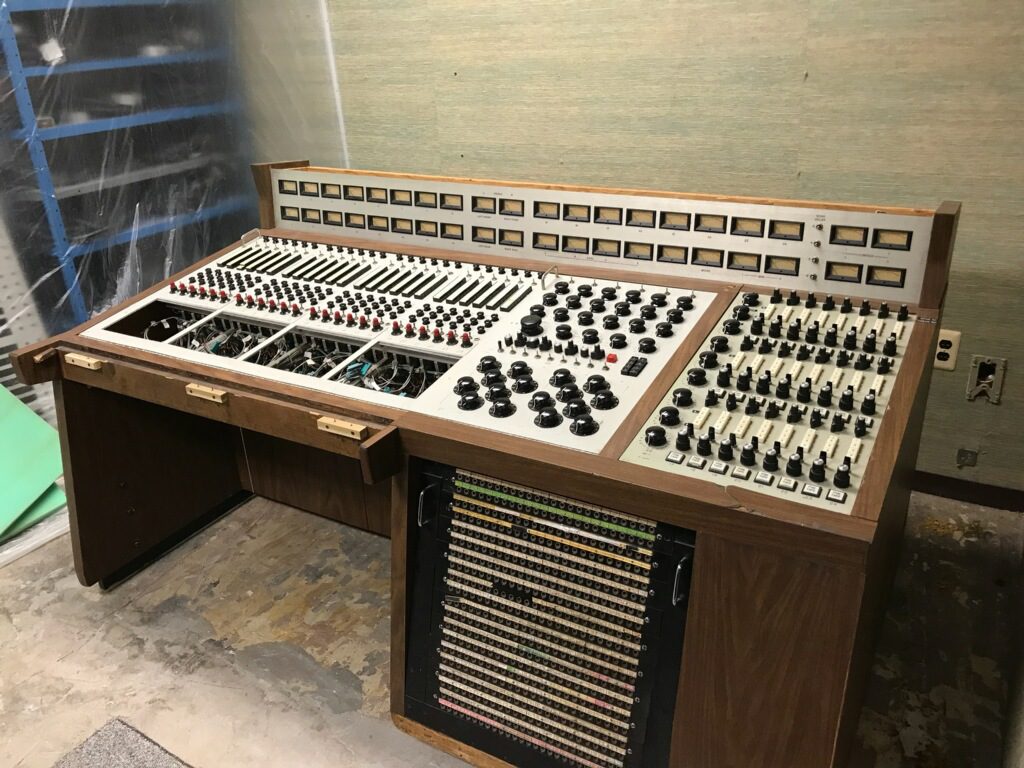 Frank DeMedio built all of the studio's custom gear and console. He used  UA610 (Universal Audio) amplifiers to build the console. It has 24 channels with an eight channel monitor and cue, military grade switches, and level controls, and one preamp for everything in a channel. The monitor speakers were modeled after Putnam's design. It included the Altec 604-E speakers, powered by McIntosh 275 Tube power amps.
This famous console has a lot of history. This is where Jefferson Airplane recorded their first album, Volunteers. Other well-know artists such as, Grateful Dead, Steve Miller, Santana, and many more started here as well. Perhaps the most famous recording at Studio C was Crosby, Stills, Nash, and Young's album, Deja Vu. Creedence Clearwater Revival was so impressed with the studio that they named their record Cosmo's Factory after the Studio.
Bill Halverson, Stephen Barncard, and Glyn Johns were other well-known engineers who were on staff at Studio C at the time.
Wally Heider, Recording Engineer Extraordinaire
Heider's work spanned from the Big-Band era to rock bands, for which he was best known during the 1960's. Regardless of the eccentricities requested by various rock bands, he was quite accommodating for any need they had, nevertheless of how silly it seemed. Such as, when Grace Slick wanted to sing surrounded by light at a Jefferson Airplane session, Heider brought in a ring of lighted cans in the studio.
Heider had planned to build four studios — A and B on the ground floor and C and D upstairs. Studio B was never finished and became a game room. Audio Garden has recently acquired all of Studio C and part of D.
Subscribe to the MusicXplorer Newsletter here