One Step Back — The Splooge Movie
The Rock & Roll Odyssey of Splooge, a film by Peter Ventrella
A new movie about a NJ band and their musical journey
One Step Back, The Rock & Roll Odyssey of Splooge, who is from Westfield, New Jersey. It was produced by producer/director, Peter Ventrella. He owns Rolling Thunder Productions, and his company focuses on creating the behind-the-scenes documentaries for movies. Peter has worked with many celebrities from recent movies including; Dan Aykroyd, Elizabeth Banks, Michael Douglas, and Penny Marshall, to name a few.
One Step Back is about a band who aspires to get their brand of music out there and to find themselves. The band is out to achieve their dream, but the real question is, did they? The opening of their song, "Make it Through the Day," really sums up life and the movie.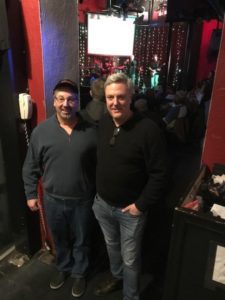 MUSICXPLORER — Before we talk about the movie, can you give us some background on your career?
Peter — I was originally from Westfield, New Jersey, and came out to California to go to film school. I graduated from USC and was doing screenwriting. I sold a TV show, called PSI Factor which was on the air for four years with Dan Aykroyd. As time went on, I realized that the writing part of things wasn't for me, so around 2003, I got more into the film-making production side and documentaries. At the same time, I started filming the Splooge documentary.
Tell us about your production company.
Peter — My company is called Rolling Thunder Productions. For the last ten years, we have produced behind-the-scenes featurettes. We did the Planet of the Apes box set and Manchester by the Sea. We recently did Moonlight, which was an Oscar winner a couple of years ago.
You mentioned you knew Penny Marshall.
Peter — I worked very closely with Penny on the special edition of her movie, Big. Penny was a real sweetheart, and we worked with her at her house. She had one of the world's largest sports memorabilia collections in her basement. Penny would frequently give me a tour of it — it was quite a collection. She had a heart of gold, but an exterior of steel. She was one of the first women who really was successful in directing.
Sounds like she was fun to be around.
Give us some background on Splooge and how you know them.
Peter — Splooge is four guys that have been together since the mid to late 90s. I had known Drew Koski, the drummer, since we were kids. I was back home in Westfield visiting my folks and ran into Drew (I hadn't seen him for 20 years.) We got to talking, and he said, "I play in an all original music rock band. You should come check us out," and I did. I was blown away. They are an amazing live band. He gave me a couple of their CD's. I really loved their music and started to realize after listening to the songs that they were singing that they were telling their life story through the lyrics and the music. I was really taken by that, because it's a slice of life and a look at a perspective that movies don't usually deal with.
Who are the rest of the band members?
Peter — I mentioned Drew. There is Tommy Diaz, the singer; Jeff Phillips, the bassist; and Mike Novy, the guitarist.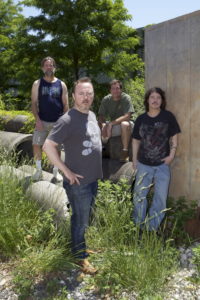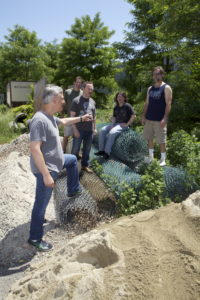 What is the meaning behind the movie title One Step Back?
Peter — Tommy, the lead singer, has these really bad jokes he always tells. There is one he tells when they are playing at a bar and there's maybe six people in the audience. He starts the show by saying, "OK, everybody take one step back," meaning, don't get too close to the stage, and of course, there's nobody there. Also, the band is one step back from their dreams, and they're trying to take that last step forward.
They are definitely funny.
What is with the Abbey Road Beatles album cover for the movie poster? It definitely caught my eye.
Peter — Well, with this being a small independent film, we knew we had to grab people's attention, and your first point of contact with people is usually a movie poster, or a key art of some sort. We had this Beatles, Abbey Road idea, because the band loves The Beatles, and they always would talk in English accents kind of jokingly. We did a photo shoot in Westfield, where the band was in a crosswalk, just like on the Abbey Road album. We got everything exactly the way it was on the album cover.
Nice. What about the band walking across the Garden State Parkway?
Peter — A movie poster designer friend of mine, Bryan Allen, who I worked with at Paramount Pictures (who has designed all the Star Trek movies and the Jim Carrey movie, The Truman Show), came up with this poster idea. He took that idea we had and photoshopped it on the freeway.
Did you get the reaction you wanted?
Peter — Oh Yeah!
This documentary is different from other rock documentaries.
Peter — Most music documentaries are about famous people which makes sense because when it's released, there is already an established fan base. If it were about Eric Clapton, Neil Young, or whomever, people will immediately gravitate towards it. I felt that this is a story that hadn't been told, and that's part of what interested me.
It didn't matter to me whether these guys became successful or not with the movie. It was more important to me about what it took for these guys to keep the dream alive and the sacrifices it takes, or to let it go. It was more the process of them struggling with what success meant to each one of them, and if they didn't achieve that success, how would they define their lives after that.
The tone of the movie changed as we got into their lives and started seeing the darker aspects of their lives. It became a comedy laced with tragedy and heartbreak. It is a movie that's a real accurate representation of real life.
It's amazing how you can dive into a project like this, and have a different outcome of what you originally thought.
Peter — I think with any good documentary, the director has to relate on a personal level to the subject. There's no good documentaries made without the director relating very strongly on some aspects of the people they are covering.
Getting involved in a documentary has to affect you somehow. It's more than a movie, it's real life.
Peter — That's really the deal with these movies, it does change your life. Being a director, you put yourself into the movie and invest yourself into it. I'm always going to be friends with these guys.
I found myself looking at the movie from a different perspective. To me, documentaries make you think.
Peter — Yeah, there's also the music aspect of it. Music for these guys, is something that saved their lives in many ways. That's the power of music.
Music has certainly helped with my life.
Did you find yourself living part of the movie as you were trying to decide where your career was going?
Peter — Yeah, I was at a major crossroads at the time. I had just sold this big TV show, but that part of my career wasn't really going anywhere, so I had to stop and reflect about what to do. I was struggling with letting go of the writing.
The movie was filmed over a 14-year period. What took so long to finish?
Peter — We shot the bulk of the movie in 2003 and 2004. After we finished shooting in Ireland, one of the band members had an injury, and we did not know if that would jeopardize his future playing music. So we were in kind of a cliffhanger there. At the same time, my career started to change, and I had no time to finish the movie.
What was it like being a part of the band's life?
Peter — It's always a tricky thing when somebody allows you to enter into their life, and you're asking a lot of personal questions. You're trying to get a sense for who they are and capture that on camera. I had this incredible access to these real lives. On one hand, there's excitement about it, and on the other hand, when I did the sensitive topics, you feel like you're intruding and there's a sense of "You have to do it right." That was a big concern for me. Did we do right by them. Judging by the reaction to the film, I think we did.
Did you think it would get finished?
Peter — The movie was always on mind, and I was always thinking, "When am I gonna be able to edit this?" So in 2013, I brought in editor Pam Raymer-Lea, and later on in the process brought in Lauren Saffa. Lauren worked as an editor on Ron Howard's Eight Days a Week documentary on the Beatles.
When I did a screening for my colleagues in 2017, and they were asking what happened to these guys, it pushed me to go back and film the guys in their current lives.
That was a great way to end the movie.
Peter — I thought that was the right way to end it.
What is your favorite part of the movie?
Peter — One of the high points, was the end sequence where we see them playing in the band, and where their lives are today.
When was the movie released?
Peter — The official release date was January 1st, 2019. It was just recently released on Amazon, iTunes and Google Play. The DVD is available with two hours of extra material, including live performances in Ireland and New Jersey, deleted scenes and a feature length audio documentary with me and the band members.
The movie premiere was at the Rilato Theater in Westfield. How was the reception?
Peter — The premiere was great. It was the culmination of 15 years of everybody getting together. Not only the band, but the people who were in the movie, their families, and the people who were waiting for this to happen. We just had a really wonderful moment when everybody saw it on the big screen for the first time. It was really great to see the reactions of the people who really liked it. So, that to me, makes it all worthwhile. 
What's next for Splooge?
Peter — They are going to be touring. We are looking for a prominent band for them to open up for. They just finished recording an eight song album that is going to be available on iTunes soon, called From the Shed. I think if the movie can help them in some way and get their new music get out there, it's gonna be a completely new audience that discovers them. Their new music has evolved in a unique direction, and I think people will really dig it.
What other projects are you working on?
Peter — I'm in the process of directing a feature length doc, on underground and independent comic books. This involves people like Frank Miller and The Dark Knight, Alan Moore, who did Watchmen and R Crumb. It's about this group of outsiders who had a vision and were able to transform an art form and industry that was dying out in the '70s. I'm about halfway through filming interviews for it, and we're starting to cut a trailer together and get some more financing for it.
Is this project your own idea?
Peter — Yeah, it's called, Rise of the Renegades.
Are you able you do a lot of what you want to do?
Peter — Yeah, I balance it with the behind-the-scenes work. That's the core business of my company, which I love, but I also have the passion to do feature documentaries.
Thanks Peter for talking to us. We will follow up and see how is Splooge is doing.
The One Step Back movie is available on the film's website onestepbackmovie.com as well as Amazon, iTunes, Google Play, and the music is available on Spotify, Itunes, Amazon music, Pandora, Tidal as well as many other platforms.
Check out the trailer for One Step Back: The Rock & Roll Odyssey of Splooge
Subscribe to the MusicXplorer Newsletter here